Freeview TV system
Our revolutionary free-view system is great if you like all the free UK TV channels and UK catch-up TV players and 1000's of TV box sets and movies.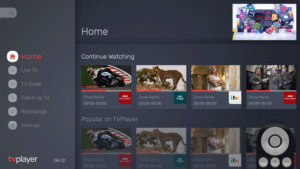 Channels include: BBC1, BBC2, BBC4, ITV1, ITV2, ITV3, ITV4, ITVBe, CHANNEL 4, MORE 4, 4 SEVEN, CHANNEL 5, 5 STAR, SPIKE, QUEST, QUEST RED, REALLY, HOME, CBBC, CBEEBIES, FNTV, DMAX, SHOWCASE, NOTTS TV, FOOD NETWORK, TRAVEL CHANNEL, TRT WORLD, FRANCE 24, BBC NEWS.
TV Guide included.
Also included BBC iPlayer, ITV Hub, 4 On Demand, Demand 5, UK TV play, UK Radio & 1000;s of on-demand movies and TV series.
Will work even if you have a low internet speed!
All this including the equipment you need to get started for ONLY €120
(price includes a 12 month VPN subscription. Then only €39.99 a year)